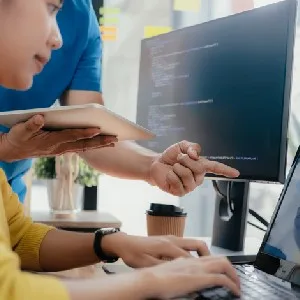 When there are millions of web hosting services on the market, choosing the right one for your website, email address or other online services can feel daunting. While finding a host is essential for most businesses, it's important to take time to understand what the server can offer you in terms of speed, bandwidth, security and uptime.
We've gathered everything you need to know about Digital Pacific in one place, so you can figure out if it's the right fit for your business.
Based exclusively in Sydney, Digital Pacific is an Australian-born company that primarily offers shared web hosting, VPS and dedicated hosting servers – all great places to build a business website or host your email address. Priding itself on being carbon neutral, debt-free and fully scalable, Digital Pacific is known for being very reliable. So, whether you're new to the hosting world, or a seasoned pro, it's a fail-safe choice for almost anybody with a small or medium enterprise.
---
From website security to reliable uptime, friendly support services to user-friendly features, here are a few ways that Digital Pacific can help your business out.
Boasting a 99.99% uptime, Digital Pacific will minimize the risk of losing potential sales due to server maintenance or unforeseen downtime, making your business much more reliable for users.
A handy cPanel is included with all Business Plans which allows you to control everything, from email accounts to DNS records, in one easy space.
With a free SSL certificate included in every Business Plan, you can rest assured that your website is safe from viruses, malware attacks and potential hackers.
Maximise sales with a website that operates smoothly and around the clock thanks to a 24/7 user support team.
Digital Pacific pricing and subscription options
With such a wide range of subscription plans available, Digital Pacific suits individual users and serious business owners, those on a budget and those who are happy to splash their cash, as well as newbies and old-timers in the web hosting world.
It's worth noting that all plans receive the same 24/7 support services from Digital Pacific, can be operated from an online control panel and don't have to enter into any written contracts.
Personal Hosting
Perfect for the individual user, Digital Pacific offers two different tiers for personal use:
Personal Basic ($9.90/month)
Personal Standard ($12.90/month)
Personal Basic users can enjoy 1GB of storage space and a maximum of 10GB bandwidth a month. Upgrading to the Personal Standard Plan increases storage capacity to 5GB and bandwidth to 20GB.
Business Hosting
Small businesses are better off choosing one of the four business subscription plans, all of which offer more storage, more website traffic and a free SSL certificate for improved security:
Business Basic ($17.90/month)
Business Standard ($22.90/month)
Business Advanced ($25.90/month)
Business Pro ($35.90/month)
The main difference between the plans is the storage and monthly traffic limits. Basic users are offered 25GB storage and 100GB of bandwidth; Standard users 50GB storage and unlimited bandwidth; Advanced users 100GB storage and unlimited bandwidth and Pro users can enjoy 150GB storage and unlimited bandwidth. A second difference is the number of add-on domains allowed, ranging from one with the Basic plan to ten with Business Pro.
Premium Hosting
Perfect for businesses expecting a large number of website users, Premium plans all offer unlimited monthly traffic, a free SSL certificate, increased RAM and a good amount of storage. Users can choose between:
Premium Standard ($49.90/month)
Premium Advanced ($99.90/month)
Premium Pro ($149.90/month)
Premium users benefit from increased RAM, which is limited to 4GB for Standard users, 6GB for Advanced users or 8GB for Pro users. An additional difference is the CPU speed which is set at 400% for Standard accounts, 600% for Advanced accounts and 800% for Pro accounts.
VPS Hosting
Perfect for high-traffic websites, VPS Hosting, or Virtual Private Sector hosting, is the most advanced of Digital Pacific's subscription plans. You may still be sharing a server with a few other users, but you can enjoy the added benefit of DDOS security, fantastic storage along with increased RAM, CPU and bandwidth rates. Things can get a bit complicated here but plans generally range from $29.90/month to $149.90+. It's easy enough to give the team a call on 1300 694 678 to find something that suits your business needs exactly.
The main things to look for when comparing hosts are speed, bandwidth, storage, and uptime, as well as good user support to get you through those more difficult times.
Features

99.99% uptime.
Between 10GB and 50GB of storage space.
Bandwidth begins from 10GB in the basic plan, to unlimited in most Business plans.
4GB RAM by default.
All-Australian network with four servers located around the country.
Website migration services.
Email hosting.
Domain registration.
Website building abilities via WordPress.
Free SSL certificate.

99.95% uptime.
Unlimited storage space and bandwidth for most paid plans.
10GB storage and 100GB bandwidth on the basic plan.
RAM ranges between 1GB and 8GB RAM.
Free website building on Zyro and free domain name.
Free web hosting.
Email hosting.
Daily backups.
Free SSL certificate.

99.92% uptime.
Between 10GB and 30GB of storage space.
Unlimited bandwidth.
4GB RAM by default which can be upscaled if needed.
Free SSL certificate.
One-click installs available.
Website building via WordPress.
Free website transfers.

Price

Personal Plans from $9.90/month.
Business Plans from $17.90/month.
Premium Plans from $49.90/month.
VPS hosting from $29.90/month.

Single shared hosting $1.45/ month.
Premium shared hosting 2.15/month.
Business shared hosting $3.45/month/
VPS hosting $4.95/month.
All subscription prices increase after four years.

Startup Plan $3.95/month.
Grow Big Plan $5.95/month.
GoGeek Plan $11.95/month.
Do note that there are hidden costs involved once you've purchased your subscription.

User support

24/7 technical support via telephone, email or remote assistance.
Comprehensive online FAQ section and help centre including blog posts and online tutorials.

Live chat and intercom.
Same-day response email support.
Multi-language support.
Large online help centre including tutorials and FAQ pages.

24/7 live chat with instant reply.

Ticketed email system which has a one to two-day response rate.
All support staff receive comprehensive technical training.
It's easy to get started with Digital Pacific and then adapt to your needs as you go by upgrading or downgrading subscription plans. Here's how to take the first steps towards securing a reliable web hosting server for your business:
Create an account.
Choose the right subscription plan for you.
Migrate your website to the server, or create one using WordPress.
Add any additional services you might need, like a personalised email address.
Enjoy your safe and secure server.
The team working at Digital Pacific are contactable around the clock, offering 24/7 technical support to all users. Whether you'd prefer to contact the team over the phone (1300694678) or via email (support@digitalpacific.com.au), you can expect a response within one business day.
Sorgente articolo:
Digital Pacific review: What's offered and is it worth it? – finder.com.au